Tiffany Clophus
Staff
Education Liaison, Compassionate Education Systems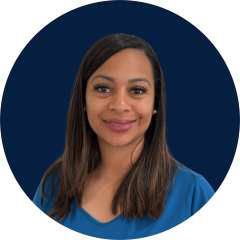 Tiffany Clophus is an Education Liaison with the Compassionate Education Systems team in the Antelope Valley Region of Los Angeles County. Tiffany's role is aimed at improving the educational outcomes of children and youth in foster care by working directly with youth attending school in the district, monitoring key educational engagement such as attendance, academic success, and provide coaching and support in their educational planning to help students develop the skills and capacities needed to champion their own education.
Tiffany graduated from McNeese State University in Louisiana with a bachelor's in Family and Consumer Sciences with a concentration in Family and Child Studies and plans to pursue a master's in social work.
Prior to joining the National Center for Youth Law, Tiffany worked in education for over 10 years in roles such as graduation pathways coach at Lake Charles College Prep, special services teacher at Lake Charles Charter Academy and enrollment specialist at Sowela Technical Community College.
Originally born and raised in Louisiana, Tiffany has recently moved to Antelope Valley with her husband and four children and looks forward to sharing her southern charm and traditions with the youth and community she now calls home.