Rebecca Gudeman
Staff
Senior Director, Health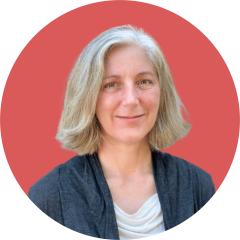 Rebecca Gudeman is the Senior Director of Health at the National Center for Youth Law. Rebecca works to ensure that young people's needs are centered in their healthcare experiences by coordinating policy, litigation, communication, and community engagement efforts that support communities in which all youth have the resources and access they need for healthy growth and development.
Rebecca has advocated for young people for more than 30 years. She is a leading national expert in multiple areas, including confidentiality and information sharing across child-serving systems, adolescent health access, and health care consent.
Rebecca joined the National Center for Youth Law in 2001, driven by a passion to ensure that youth are able to access the appropriate health care they need and want. Since then, she has transformed systems to meet young people's needs. She's done this by passing legislation that improved access to mental health services while protecting confidentiality; weaving together litigation and legislation to ensure access to reproductive health care for youth in foster care; and working with schools, courts and agencies to ensure youth have access to care while also having their privacy protected.
In 2016, Rebecca launched the Reproductive Health Equity Project for Foster Youth, a groundbreaking collaborative of public and private agencies that partner with youth to promote their healthy sexual development. She also shares her wealth of expertise on TeenHealthLaw.org, a go-to source of information that includes resources on confidentiality, minor consent, child abuse reporting, and health information sharing for a variety of states and settings.
In 2015, Rebecca received the National Chapter Recognition award from the Society for Adolescent Health and Medicine (SAHM). In 1997, she was named the American Bar Association's Young Lawyer Child Advocate of the Year. Rebecca began her career with the Children's Rights Project at Public Counsel in Los Angeles, where she developed and led one of the first school-based legal assistance programs in the U.S. She holds undergraduate and graduate degrees from Harvard and a law degree from the University of California at Los Angeles.
Rebecca was raised primarily in the midwest and currently lives in the Bay Area, where she enjoys spending time with her family and occasionally watching reruns of Survivor.