Natasha Wilkins
Staff
Educator Engagement Manager, Education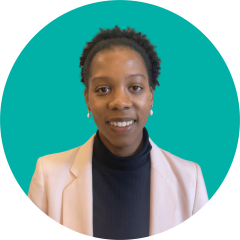 Natasha Wilkins is the Educator Engagement Manager with National Center for Youth Law's Education team. In this role, she trains educators and other key stakeholders to speak out in the media and with policymakers on key education equity issues, including supporting an honest and inclusive education and addressing inequitable school discipline. Natasha also creates accessible advocacy materials and works with external coalition partners to develop advocacy strategies.
Drawing on her experience as a high school history teacher, Natasha advocates for culturally diverse curricula that are historically accurate and explore realities such as racism and other discrimination. Prior to joining National Center for Youth Law, Natasha was a legal intern for the United Nations and a Leadership in Educational Equity Fellow at the Illinois State Board of Education, where she became a senior policy specialist. Natasha holds a bachelor's degree in public policy from the University of Illinois and a juris doctorate with honors from Michigan State University.
Outside of work, Natasha can be found reading about international affairs, hiking, and learning about other cultures while traveling.