Mariah Amaya
Staff
Education Liaison, Compassionate Education Systems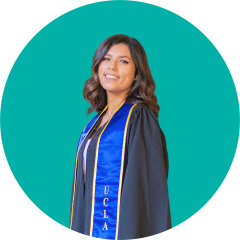 Mariah is an Education Liaison with the Compassionate Education Systems team for Antelope Valley site and supports foster youth in improving their educational outcomes and monitoring key indicators of educational engagement, such as attendance and behavior. She frequently communicates and collaborates with school staff, biological parents, caregivers, Los Angeles County Department of Children and Family Service social workers, and other service providers in educational planning for youth in foster care. She coaches and supports foster youth develop the skills and capacities needed to champion their own education. As the Education Liaison, Mariah frequently attends meetings on behalf of youth and builds relationships with schools, caregivers, the Los Angeles County Department of Children and Family Service, and other service providers within the Antelope Valley community.
Mariah graduated from the University of California Los Angeles, with a bachelor's in psychology and Chicanx/Central American studies, and a minor in applied developmental psychology. Mariah identifies as a former foster youth and brings extensive experience in trauma-informed practices and research. Prior to joining the Compassionate Education Systems team, Mariah worked with infants and toddlers at an early education center at UCLA where they gathered research based on holistic infant development trajectories. Prior to this, Mariah worked at an adoption facility, UCLA TIES for Families, where she calculated and organized various self-reported measurements used by clinicians for patient assessments. Mariah has also participated in various non-profit advocacy groups like California Youth Connection and Hispanas Organized for Political Equality.
As a former foster youth, Mariah not only has a unique perspective on young people's lives but also a great passion for centering the voices of youth involved in the juvenile justice system.