Kate Walker Brown
Staff
Senior Director, Collaborative Responses to Commercial Sexual Exploitation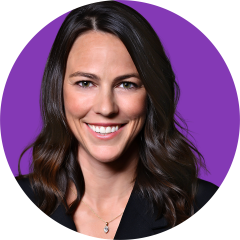 Kate Walker Brown is an attorney and Senior Director at the National Center for Youth Law. Kate and her compassionate, tenacious and creative team sees to eliminate the commercial sexual
exploitation of children and youth by bringing people together, changing
perceptions, building trust, transforming systems, and empowering youth
and survivors to thrive.
With more than 15 years of experience working alongside youth and families impacted by systems, Kate has focused the last decade on youth impacted by commercial sexual exploitation. She has collaborated with youth, families, community-based partners, and systems to fundamentally transform the legal landscape in California to end the criminalization of youth victims and survivors of commercial sexual exploitation. Kate continues to reshape the state's approach to commercial sexual exploitation as co-chair of the statewide Commercial Sexual Exploitation of Children (CSEC) Action Team, and supporting its Advisory Board of lived experience experts. Nationally, she participates as an advisor in key efforts including the National Center on Child Trafficking. Kate received her law degree from the University of Iowa College of Law and her bachelor's from Pomona College.
Originally from Iowa, Kate tries to instill her love of gardening and saying hello to everyone she passes on the street to her two small boys, all while chasing them around to and from all of their sport endeavors, and being the sous chef to her partner who has developed real expertise in the kitchen.