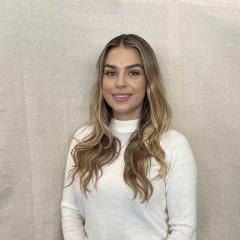 Erica Parker is a former student of the Monterey Peninsula Unified School District (MPUSD), whose parents immigrated from Mexico. Inspired by the challenges her hardworking parents faced as newcomers to the United States, she became employed by the Monterey Peninsula School District shortly after graduating from Monterey High School. Her goal was to assist families and students, specifically those who may not have familiarity with navigating the educational system, along with those who faced significant personal challenges.
Parker began her career working in the district's Family Resource Center, where she interacted with the district's most vulnerable families. She helped families with housing, food, clothing, and mental health support. She later transitioned to the position of Middle School Community Liaison where she coordinated services for families who were new to this district and connected families with resources to assist them with their student's behavior, self-esteem, and social and emotional needs. In addition, she identified families struggling with obtaining basic necessities and assisted them with obtaining housing, meals, and transportation. Parker then moved to the position of Community Day School Specialist where she managed the support framework for the district's most at-promise students. In this role, she created support plans to meet specific district-mandated conditions for expelled students to address their individual needs. As part of this multi-tiered system of support, Erica coordinated services for students and families to receive counseling from the district's Mental Health Clinician, Education Liaison, Career and College Planning Specialist, and various community agencies.
Parker is committed to supporting families and students who require guidance and support. She is committed to ensuring students and families have equal and equitable access to our educational system, along with the support necessary to succeed outside of the school setting.