Becky Wolozin
Staff
Senior Attorney, Legal Advocacy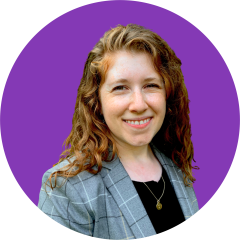 Becky Wolozin is a Senior Attorney at the National Center for Youth Law. Becky works with programs across the organization to identify ways in which litigation can strengthen children's rights and support young people's power, agency, and wisdom. In addition to providing litigation support across the organization's program areas, Becky specializes in litigation and policy promoting the rights of immigrant children in federal custody.
Before joining the National Center for Youth Law, Becky co-founded and directed the Immigration Litigation Clinic at George Mason University's law school, hosted by Legal Aid Justice Center in Virginia, where she also worked a senior attorney with the Immigrant Advocacy Program. Becky graduated with concurrent degrees from Harvard Law School from the Harvard Graduate School of Education. Following her graduate studies, Becky was an Equal Justice Works fellow with Legal Aid Justice Center working on behalf of immigrant children and families in Northern Virginia.
Becky enjoys getting her hands dirty in the garden, spending time with her family, and staying up too late reading.