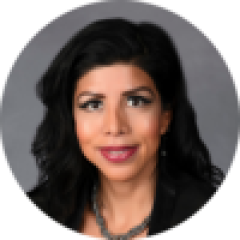 Angie Jiménez is a senior attorney on the Justice and Equity Team focusing her efforts on the Debt Free Justice Campaign. Prior to joining NYCL, she was the Vice President of Grants, Legal and Compliance at Aunt Martha's Health and Wellness, a not-profit organization working to reduce racial and ethnic health disparities for youth and families across northern and central Illinois. She spent five years at the Illinois Collaboration on Youth, a non-profit organization representing over 100 child welfare, youth service and juvenile justice service providers, where she held the roles of policy associate Juvenile Redeploy Illinois project director and communications director.
Her previous legal experience includes roles as a Guardian ad Litem at Legal Aid Society of Milwaukee and staff attorney and legal coordinator at FRIENDS, Inc., which provides legal, housing, prevention, and counseling services to domestic and sexual violence survivors in Wisconsin. Jiménez was an assistant editor and reporter for Latina Voices, Extra Bilingual Community News and AustinTalks, covering underrepresented stories from Chicago's Austin community on the city's West Side.
Jiménez earned her Juris Doctor degree from the University of Wisconsin Law School. She received a master's degree in Journalism from Columbia College Chicago and bachelor's degree from Southern Illinois University at Carbondale.