Alberto Maciel
Staff
Education Liaison, Compassionate Education Systems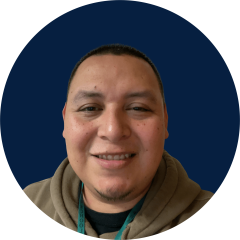 Alberto Maciel is an Education Liaison with the Compassionate Education Systems team in the Antelope Valley of Los Angeles County. Alberto's ability to connect with youth and help them identify their strengths is a skill he utilized in his previous roles. He is passionate about inspiring young individuals to set goals and be motivated in envisioning the futures they want for themselves.
Alberto has more than nine years of experience working with youth. Prior to coming to the National Center for Youth Law, he was at the nonprofit organization for Rancho San Antonio Boys Home that served youth placed on probation. He has extensive experience in trauma-informed practice and strength-based work. He attended Cal Lutheran University in Thousand Oaks, CA where he studied political science.
Alberto likes playing weekly soccer and going on walks with his daughter and fiancé. His goal is to finish visiting all the baseball stadiums.