Latest News
Success and Impact
Match Week: Q&A with Kristen Weber
Senior Director of Child Welfare reflects on experiences, shares vision for future
Throughout the week of Dec. 4 through Dec. 9, former NCYL Board Member Lex Brainerd is matching donations to NCYL up to $22,000. Donate here to have your impact doubled.
Your donation will support the work of NCYL's dedicated and experienced child advocates, like Kristen Weber. Kristen began her legal career at NCYL as a Skadden Fellow 25 years ago and has recently returned as our new Senior Director of Child Welfare.
Here, Kristen reflects on her experiences with NCYL and her vision for foster care reform and advocacy.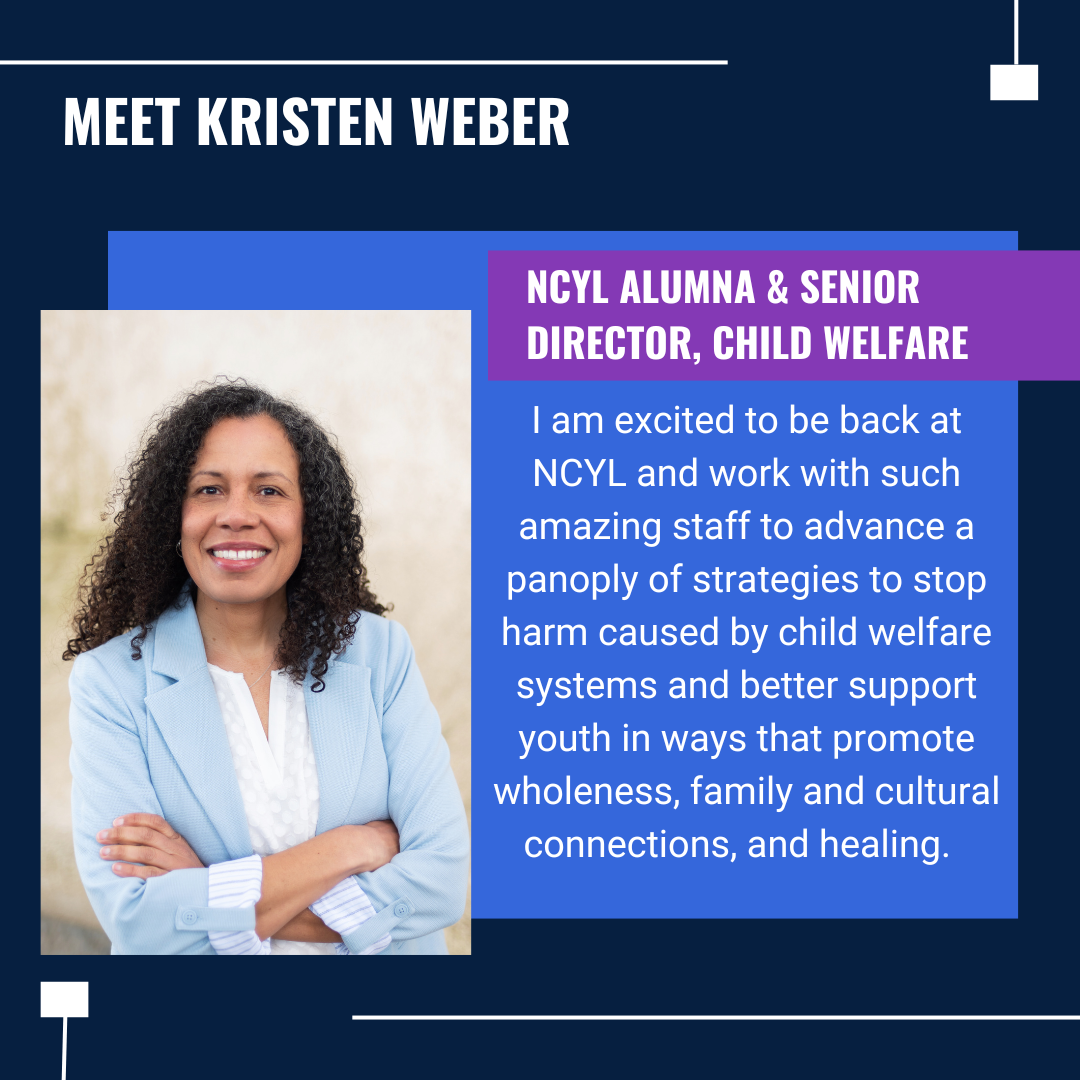 Q: What influenced your decision to return to NCYL as Senior Director of Child Welfare? 
KW: I want to do more radical work in child welfare. I have done extensive work to examine and fight for racial equity within the child welfare systems and believe we have reached our limits in some way.  
NCYL is uniquely poised to use a mixture of strategies — from legal advocacy and litigation to policy and communications — to be a leader in the larger national change that is afoot to better support kids and families and end racist and harmful interventions. I am excited to be back at NCYL and work with such amazing staff to advance a panoply of strategies to stop harm caused by child welfare systems and better support youth in ways that promote wholeness, family and cultural connections, and healing.   
Q: What was your experience as a fellow at NCYL like? 
KW: The thing that stands out the most from my fellowship is how dedicated the attorneys I worked with were. Right off the bat, I was thrown into work on huge class action lawsuits and worked closely with Bill Grimm. He was such a force. He had an incredible, exacting dedication to what kids and families needed and a relentless pursuit of justice for kids in a time when the general public didn't get how bad the child welfare system was. Now, people understand how truly bad it is for kids to be there long term — how harmful it is to be separated from families for a long period of time — but that was a thing that people didn't fully understand when I was a fellow and we were doing this work, and that made it special to work at NCYL.  
Q: Why is your vision to transform the child welfare system so important right now? 
KW: The current child welfare system primarily relies on the intervention of family separation as a means of keeping kids safe and it is widely acknowledged that this intervention is a traumatic one. After decades of reform efforts, we still see children and youth unsafe at home, in communities, and also in child protection placements. Children and their families are met with a long list of services but don't get the actual help that they need. Effective help for youth often requires addressing larger structural and institutional racism and other inequities.  
For the last 15 years, I have worked with parents, youth, advocates, and child welfare professionals to understand what families need and what support they actually got from system intervention. What I saw and documented was how elements of structural and institutional racism devastated youth and their family connections — whether it was algorithms that resulted in the decision to remove youth from their home, policies that prevented placement with relatives, or just a lack in the belief that youth should be with their families. These systems also are inherently political, which means rich and white families are largely immune from any interventions, but populations that are already highly surveilled and who experience tremendous oppression and stigma — including Black and Indigenous youth, LGBTQ+ youth, especially trans youth — are vulnerable to being separated from their families. I know we can build something different and better.    
True child welfare requires alternatives to what we have now — alternatives that both support the safety of children and youth and prevent the trauma of family separation, alternatives that promote healing and wholeness and youth self-determination, and alternatives that work to remedy the impact of structural and institutional racism. 
Q: How can donors and alumni support your work and NCYL? 
KW: First, this is a time to really engage with big ideas however you can — whether it is around abolition theory and thinking, reparations in your community, or considering what justice means and looks like.  
Second, you can engage locally. Ultimately, everything has a local element. You can help correct the false narrative that the child welfare system is benevolent in your community. Or, you can help work toward giving families what research shows they need, like basic income, safe affordable housing, quality and affordable child care, and healthy drinking water and play spaces. All communities need to be working on that across the country.  
And, you can donate to support organizations like NCYL, while we work on new and innovative ideas to ensure justice for youth. 
###
Now until Friday, December 9, you can have double the impact on work like Kristen's. All donations up to $25,000 will be matched by former NCYL Board Member Lex Brainerd. Support youth healing and wholeness by donating today. Donate here.