Match Week: Q&A with John O'Toole
NCYL's former executive director reflects on organization's impact
From Monday, Dec. 5, through Friday, Dec. 9, former NCYL Board Member Lex Brainerd will match all donations up to $22,000. Donate here to double your impact on NCYL's work.  
This year, Lex has donated in honor of the 26 years he spent on NCYL's board working alongside former Executive Director John O'Toole.  
John was Executive Director of NCYL for 34 years and is much of the reason that NCYL is the organization it is today. His impressive legacy includes ensuring NCYL's sustainability after the Legal Services Corporation abruptly defunded us in 1996 and training and mentoring many of the accomplished child advocates that drive NCYL's work now.  
Read below to learn about John's favorite case from his days at NCYL and his wishes for the organization's future.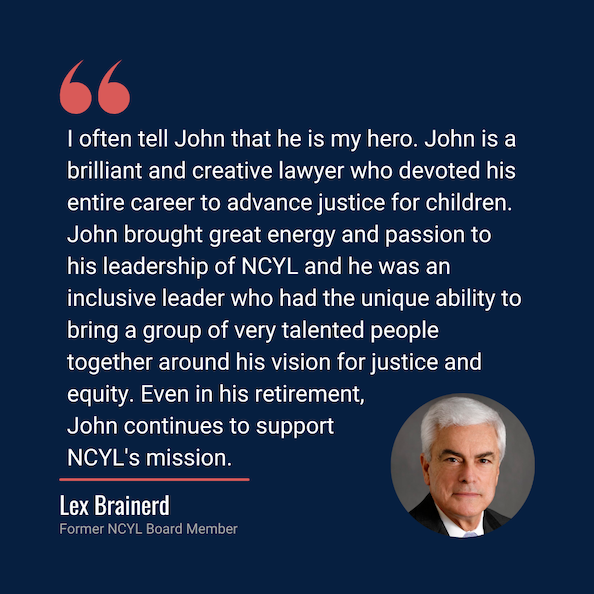 Q: You were ED for 34 years. What was one of your favorite early cases or initiatives that you worked on? 
JO: NCYL filed a landmark case — American Academy of Pediatrics (AAP) v. Lundgren — in 1987 to establish the right for youth to access abortion without parental permission or a court order. I'm proud of this case both because of NCYL's success in advancing the rights of youth and because of the courage and resolve we demonstrated by refusing the federal Legal Services Corporation's (LSC) order to withdraw from the case. At that time, LSC was NCYL's primary funder and this case did not align with their values and politics. Through this case, we both stood up for children and simultaneously sued LSC in federal court for our right to litigate the AAP v. Lundgren case. NCYL won both cases with the leadership of former NCYL staff Abigail English and Catherine Teare and with pro bono support from Morrison Foerster, including from former Board Member Annette Carnegie and current Board Members Lori Schechter and Jack Londen. 
Q: Is there a project that you worked on that you have followed the impact of? 
JO: One of the most visible and impactful cases in NCYL's history is Flores v. Reno, which we filed in 1985 and resulted in the Flores Settlement Agreement. It's remarkable that today, 35 years after the filing date, NCYL attorneys are still working to enforce this settlement that sets the national minimum standards for the treatment, placement, and release of detained immigrant children. 
One of the things that I've always been proud of NCYL for is that we don't just pass laws or statutes, we also make sure that they are enforced. Flores is a great example of this dedication because it is a constant struggle that requires our continued involvement. When the Trump Administration was blatantly out of compliance with the settlement, NCYL challenged them. NCYL will continue to enforce Flores and advance this work until immigrant children are able to live in communities rather than in government custody and have access to the resources and opportunities they need to heal and thrive. 
In the more than three decades that NCYL has been committed to enforcing Flores, countless attorneys, paralegals, law and policy clerks, and staff members have continued the work that Alice Bussiere and Jim Morales started in 1985. 
Q: How have you seen NCYL grow over the years, and what are your wishes for NCYL's future, especially with a new Executive Director joining? 
JO: I have enjoyed watching as NCYL's reputation grows over time. More and more, people know that NCYL gets things done. NCYL consistently wins large class action lawsuits and successfully passes and enforces critical state and federal bills. The organization has grown significantly under Jesse's leadership because he is a talented leader who is dedicated to resourcing NCYL's impressive and ever-expanding body of work.
My greatest hope for NCYL's future, especially under a new Executive Director, is that NCYL continues to expand and deepen its impact to ensure that every child across the country has access to equitable opportunities.
###
Please donate today in honor of John's work at NCYL and in anticipation of our critical work that is to come. Your donation will be matched until this Friday, Dec. 9.