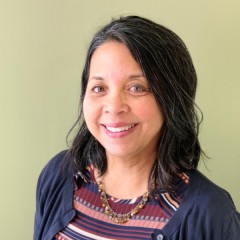 Mona was previously Senior Litigator at the Western Center on Law & Poverty with 28 years of legal services experience pursuing health, housing, land use and civil rights litigation and advocacy throughout California. She also served as a regional counsel for housing and land use for 12 years with Legal Services of Northern California where she co-founded its Race Equity Project.
She received her J.D. from UCLA School of Law and then clerked for U.S. District Court Judge Consuelo B. Marshall in the U.S. District Court in Los Angeles. She is admitted to practice in the State of California, in the U.S. District Courts of the Central District, Eastern District, and Northern Districts of California, and the U.S. Court of Appeals for the Federal Circuit.
EJS honored Mona and William Kennedy with a Racial Equity Award at our 2008 annual gala. She also received the 2007 Heber-Smith Award from the National Legal Aid and Defender Association for her housing and race equity advocacy. She serves on the advisory board of the Shriver Center's Racial Justice Institute.
Mona served on the EJS board of directors from July 2010 to January 2019, and was our board chair from 2015 to 2017. She has also been a frequent speaker at many of our conferences, including our Mind Science Conferences in Chicago in 2013 and Oakland in 2018, our Resilience of Racism Conference 2017, and served on our Civil Rights at 50 Steering Committee.