Kimberly Quiros-Elias
Staff
Senior Program Associate, Health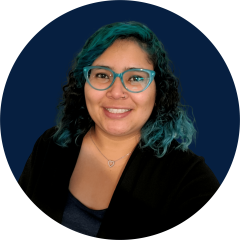 Kimberly Quiros-Elias is the Senior Program Associate at the National Center for Youth Law for the Reproductive Health Equity Project for Foster Youth — also known as RHEP — by working on administrative tasks that organize and optimize information and files for her team. Kimberly uses her technical skills to make information accessible through Airtable, the Reproductive Health Equity Project website, newsletters, and other programs.
Kimberly earned her bachelor degree in Earth System Science and bachelor degree in Business Economics at the University of California, Irvine. While studying at UC Irvine, she was a Peer Mentor for the Foster Youth Resilience in Education Program, where she used her experience as a former foster youth to connect Foster Youth Resilience in Education scholars to resources and coordinate workshops that provided professional and academic development.
Kimberly is a caregiver to her two younger siblings. She uses her lived experience to navigate available resources for them. In her free time, she enjoys baking, crocheting, playing video games, and going to the park with her partner and dog.